Newgrange - Geraldine Stout and Matthew Stout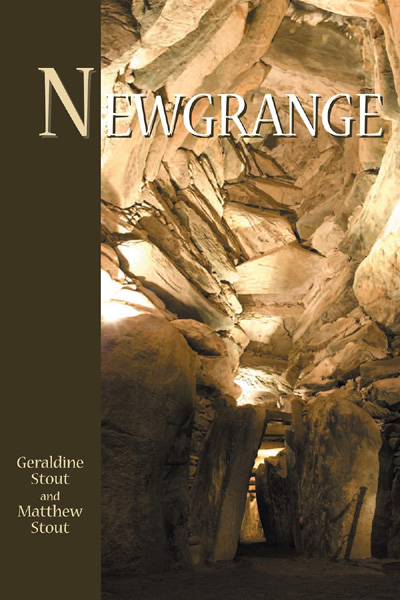 Newgrange
is the most visited archaeological site in Ireland. Every year around 250,000 people come to the see this Neolithic passage tomb. Designed for the general reader with an interest in Irish prehistory, this book explains the results of decades of excavation and analysis in one volume. It is written in a lively style that seeks at the same time to be authoritative and thorough.
Aside from its accessibility and good state of preservation,
Newgrange's Winter solstice
phenomenon, in particular, has made it famous throughout the world. While it is the best-known ancient site in Ireland, many aspects of Newgrange are not clearly understood; other aspects are just taken for granted: why is there a three meter high quartz wall around its entrance; how does the roof box work; what was the inspiration for its art and architecture?
The book is arranged in such a way as to replicate a visit to the site. It pauses over points of art and construction that the visitor will not have had time to examine in detail on a conventional guided tour. Newgrange is the synthesis of years of excavation and research at home and abroad; from the detailed reports stemming from the excavations of
M.J. O'Kelly
to the current international debate about its construction and reconstruction.
This is the first book on Newgrange to draw on O'Kelly's private papers and to incorporate the results of more recent and as yet unpublished excavations. This book will clarify many complex issues that have been addressed in widely scattered publications, using original illustrations to assist the reader, and more importantly, it places the monument in its broader cultural context.
Purchase at
Amazon.com
or
Amazon.co.uk
Reviews
The book is most attractivelly designed and produced by Cork University Press and is an invaluable addition to the ever expanding literature on Irish prehistory.
Liam Irwin - North Munster Antiquarian Journal.
Throughout the lavish and clear illustrations make it easy to understand the monument and to follow the narrative. This is a cracking read and outstandingly good value.
Alison Sheridan - British Archaeology.
This little book is designed for a generalist audience those who have visited plan to visit or wish they could visit the neolithic passage tomb of
Newgrange County Meath
. Its authors make no pretence that it is other than a personal interpretation of this much discussed monument. It is a beautifully illustrated book its many high quality colour photographs and drawings alone making it a valuable acquisition for anyone interested in Newgrange.
Australian Journal of Irish Studies
Boyne Valley Private Day Tour

Immerse yourself in the rich heritage and culture of the Boyne Valley with our full-day private tours.
Visit Newgrange
World Heritage site, explore the Hill of Slane, where Saint Patrick famously lit the Paschal fire. Discover the Hill of Tara, the ancient seat of power for the High Kings of Ireland.
Book Now