Brú na Bóinne Visitor Centre (Newgrange and Knowth)
For Visitor Information and Online Booking
Click Here
Newgrange Tours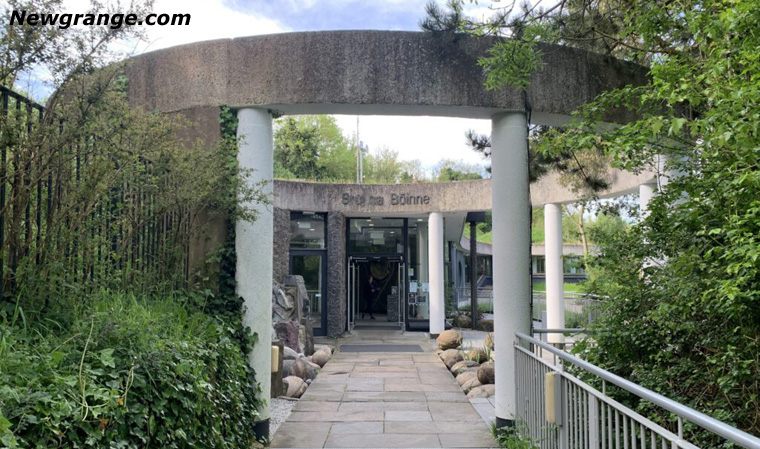 For visitors making there own way to the passage tombs at Newgrange and Knowth, the starting point is the Brú na Bóinne Vistor Center located near the village of Donore in Co. Meath. For more information go to
Visitor Centre
.
Day Tours by coach from Dublin
Mary Gibbons runs an excellent coach tour to Newgrange and the Hill of Tara. There are a number of convenient pickup points in Dublin city. The Tour runs daily, price of 75 Euro covers entry to the actual Newgrange monument. For more information go to
Mary Gibbons Newgrange Tour
.
Private Day Tours
Private days tours of Newgrange and the Boyne Valley by Skoda Superb Sedan or Mercedes Minivan. Day tours can be customized with pick up and return from your accommodation or cruise ship.
Visit the Brú na Bóinne Visitors Centre, the 5,000 year old passage tombs at Newgrange, Knowth and Dowth, Monasterboice Celtic crosses, Hill of Tara, Slane Castle and the Hill of Slane, Old Melliftont and Bective Abbeys, and Trim Castle. Newgrange and Knowth are UNESCO World Heritage sites with managed access so for that part of the tour you will have to join with others. For more information go to
Private Guided Tours
.
Ireland's Ancient East
The Boyne Valley, Birthplace of Ireland's Ancient East, is a place steeped in history. Combined with its lush green landscape and magnificent waterways, fantastic food and drink, outdoor adventures and cultural gems, this wealth of heritage makes it a really special destination.
Encompassing
County Meath
and County Louth, the Boyne Valley is a unique vacation destination with an abundance of things to do and lots of fun family activities for the best vacation you could imagine.
Discover tombs older than the pyramids at the UNESCO World Heritage Site of Brú na Bóinne. Find the birthplace of Samhain on the Hill of Ward (Tlachtga). Be moved at monasteries such as Mellifont Abbey, explore a medieval armoury at Trim Visitor Centre, brave a battleground at the famous Battle of the Boyne Site. Walk the Boyne Valley Camino. Breathe in the fresh air atop the Hill of Tara. Take the plunge at Laytown or Bettystown beach. Savour a sunset at Loughcrew. The possibilities are endless.
Boyne Valley Private Day Tour

Immerse yourself in the rich hertiage and culture of the Boyne Valley with our full-day private tour. Visit Newgrange World Heritage site, explore the Hill of Slane, where Saint Patrick famously lit the Paschal fire. Discover the Hill of Tara, the ancient seat of power for the High Kings of Ireland.
Book Now