Art Inspired by Megalithic Monuments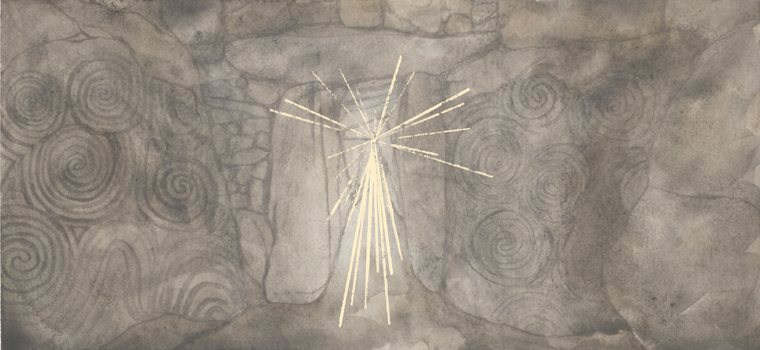 Winter Solstice at Newgrange - Watercolour by
Stephanie Luke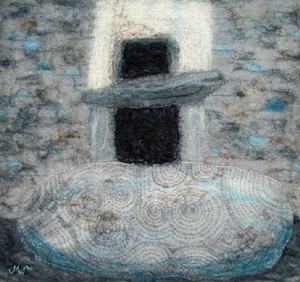 Margaret Walsh - Textile Artist
Margaret Walsh is a textile artist living in Co. Meath, Ireland, and her craft is primarily felting. She lives very close to where the River Boyne flows out to the Irish sea. Her inspirations are the ancient sacred sites of the Boyne Valley and the seashore. Margaret is often down by the shore, hoping to find interesting and unusual items of natural beauty that has been washed up by the tide.
More ...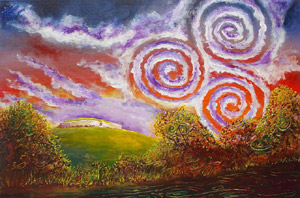 Thomas Sheridan - Artist
Thomas Sheridan is a professional artist living and working in Co. Sligo, Ireland. His inspiration is drawn from many sources which have touched upon his life. From the human/spiritual condition within the real and emotional landscape, to the nature of reality and relationships. An avid reader and perpetual student; literary and philosophical currents also run heavily throughout much of his work.
More ...
Patricia Mc Ateer - Artist
Her work is contemporary visual in acrylic and mixed media and her use of colour is essential, not only in the paintings but because colour, movement and light remind her that legends and mythology in different countries lay the foundation for cultures very different from us and yet at the same time very similar to us on some inner level.
Paintings inspired by
Newgrange
and
Ancient Ireland
.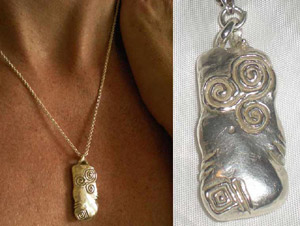 Dorothy Bentley- Jewellery Artist
Dorothy Bentley
moved back to Ireland in 2008 and created Dorothy Bentley Jewellery Design to showcase her jewellery. Her designs are inspired by her upbringing in the celtic tradition and by megalithic symbols, especially the spiral symbols at Newgrange. Dorothy features interlace knotwork and spirals (infinity symbols) in her jewellery, because these designs incorporate an ancient tradition with a uniquely modern style.
More ...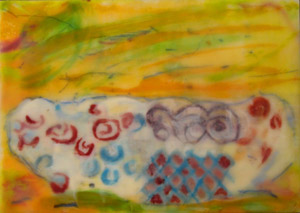 Kathryn Gordon - Artist
Kathryn Gordon
Kathryn Gordon is a multi-disciplinary visual artist living in the Pacific Northwest of the United States. She has a long and abiding love of megalithic cultures and sites brought about by her lifelong passions in history, language, art, and research into the fields of archaeology, anthropology and mythology.
More ...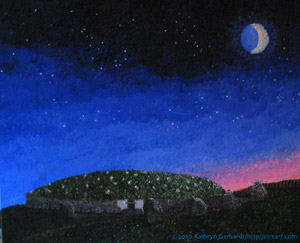 Kathryn Gerhardt - Artist
Kathryn Gerhardt
expresses myself using the symbols that have become her creative vocabulary. The symbols, found in the sacred mounds of Newgrange, Dowth, Knowth and Loughcrew hold great power and inspiration for the artist. The energy given off by the stones and their carved spirals, circles and diamonds resonate deeply in Kathryn.
More ...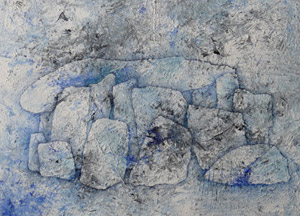 Tommy Barr - Artist
The early art of Ireland is rich in highly distinctive motifs, central to this was the tendency to express ideas by symbol. Artist
Tommy Barr
calls upon this legacy to produce abstract contemporary icons. Many are easily discernible and Tommy has not sought to disguise their influences. However, his challenge remains, to retain both the disorder and the potency of the early icons, to speak in our native tongue and to express that unique and still curious iconic identity.
More ...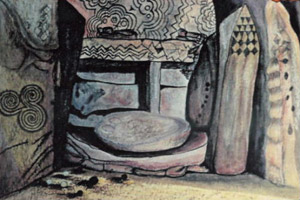 Sally McKenna - Artist
Her search for sacred space through the discovery of the ancient and holy sites of Ireland takes the form of a journey from the American South West to the enveloping mists of Ireland's ancient holy places.
Sally McKenna
now lives in the 100-year-old Glore Mill in Kiltimagh, Co. Mayo. The old mill was renovated into the Glore Mill Follain Art Centre to provide a working sculpture studio and display gardens for Sally to investigate new design and materials.
More ...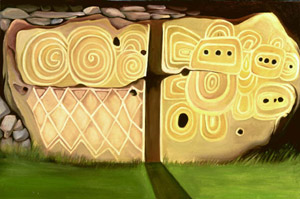 Judith Quain - Artist
Judith Quain
is a US based artist, through her husband's work in archeoastronomy, she was introduced to an ancient art form that not only celebrated the phenomenon of light and shadow but also told the story of how they marked the unfolding of time. It was well known that the people of the Neolithic age made carved symbols called petroglyphs in stone, but it was only recently that the mystery of these engravings was revealed to be astronomical.
More ...
Boyne Valley Private Day Tour

Immerse yourself in the rich heritage and culture of the Boyne Valley with our full-day private tours. Visit Newgrange World Heritage site, explore the Hill of Slane, where Saint Patrick famously lit the Paschal fire. Discover the Hill of Tara, the ancient seat of power for the High Kings of Ireland.
Book Now