Newgrange Winter Solstice - December 19th to 23rd 2019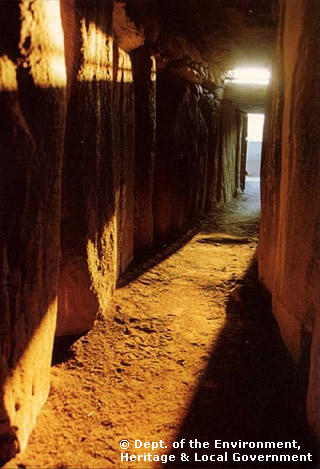 Access to the interior of Newgrange to experience the rising sun illuminating the chamber on the Solstice mornings was decided by lottery. Places for December 2019 were allocated at the end of September. All are welcome to gather outside the entrance to the Newgrange mound on each of the mornings from December 19th to December 23rd inclusive, sunrise is at 8.58am.
A few hundred people are expected to stand at the entrance to Newgrange on
December 21st
and the approach road will be closed.
More Information on December 21st ...
On the other mornings: December 19th, 20th, 22nd and 23rd the numbers at Newgrange are usually much smaller. The best way to get there is to go to
Brú na Bóinne Visitor Centre
and get a shuttle bus to the site. There is no charge for this and the Centre will open at 7.30am.
Once you get to Newgrange, you will be allowed on site from 8.30am (once it begins to get light) until 9.30am. After 9.30am, there is no direct access to Newgrange. There is no charge to go on site up until 9.30am.
After dawn, when the Lottery winners come out of the chamber, people who have been waiting outside will be brought inside in groups of 20 people. Once all the people at the monuments have left the site, normal arrangements and normal admission prices will apply. Guided tours will commence at approximately 11.30am.
Boyne Valley Private Day Tour

Immerse yourself in the rich heritage and culture of the Boyne Valley with our full-day private tours.
Visit Newgrange
World Heritage site, explore the Hill of Slane, where Saint Patrick famously lit the Paschal fire. Discover the Hill of Tara, the ancient seat of power for the High Kings of Ireland.
Book Now