The Irish Archaeological Field School (IAFS) 2010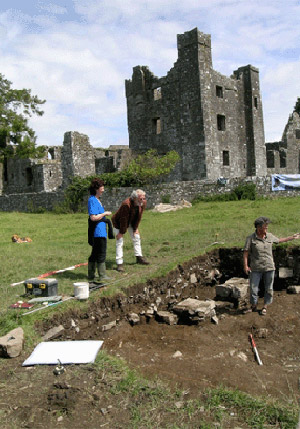 The Irish Archaeological Field School (IAFS) 2010 research programme will focus on archaeological excavations at
Bective Abbey
, Rath Maeve on the
Hill of Tara
, and Rossnaree,
Newgrange
, Co. Meath, Ireland. The programme will run over a twelve week period from the 7th June to the 27th August 2010.
2010 Programme
The Irish Archaeological Field School
is Irelands leading provider of university accredited, site based archaeological research and training. The ethos of the school is to provide an opportunity for students and enthusiasts of archaeology and anthropology to experience at first hand the excitement of archaeological excavation within an established research framework. Excavations are undertaken in a research environment led by a team of highly qualified and experienced archaeologists using the most sophisticated technologies, including GPS topographical survey, geophysics, photo-planning and more. In addition to the archaeological excavations, an extensive programme of cultural activities is on offer, including tours of historic sites, folklore, reconstructions, re-enactments, language, music, food and more.
Where:
The Irish Archaeological Field School (IAFS) 2010 research programme will focus on archaeological excavations at Bective Abbey, Rath Maeve on the Hill of Tara, and Rossnaree, Newgrange, Co. Meath, Ireland.
When:
The programme will run over a twelve week period from the 7th June to the 27th August 2010.
Course Leaders:
Dr Matthew Stout, Lecturer in the Department of History, St. Patrick's College, Dublin.
Dr Geraldine Stout, Archaeologist with the Archaeological Survey of Ireland and recognised authority on the Brú na Bóinne UNESCO World Heritage Site.
Dr Conor Brady MIAI, Lecturer in the Department of Humanities, Dundalk Institute of Technology, Louth and member of the Royal Irish Academy Committee for Archaeology
Finola O'Carroll MA MIAI, Senior Partner with CRDS Ltd Archaeological & Historical Consultants and Chairperson of the Institute of Archaeologists of Ireland
Matthew Seaver BSc MA MIAI, Senior Archaeologist and Management Director of CRDS
Dr Stephen Mandal MIAI EurGeol PGeo, Managing Director of CRDS and Vice-chair of the Royal Irish Academy Committee for Archaeology
Summary of learning modules:
Introduction to Irish archaeology
Lay out of excavation grids: planning, section drawing, levelling
Excavation techniques: trowelling, feature sheet, photography, sampling.
Finds recording: identification, processing, drawing and database entry
A wide range of specialist modules are available, including GPS Surveying; Topographical Survey; Photogrammetry; Archaeo-geophysical Survey; Architectural Heritage Survey; Geology; Underwater Archaeology; Osteoarchaeology; Computer Applications in Archaeology (Geographical Information Systems (GIS); 3-D modelling and Computer Generated Image (CGI) reconstructions); English Technical Terminology.
Accreditation:
Accreditation is provided by
St. Patrick's College, Dublin City University
. Students / participants can elect to earn 3 to 6 academic credits (3 credits for a minimum of 2 weeks participation or 6 credits for 4 weeks participation). Transfer of credit to a student's home institution must be arranged between the student and his/her home institution. Please note that all programme activities, including small study groups and field trips, are open to all participants whether they elect to receive credit or not.
Costs:
Programme fees, payable in Euro (€) to the IAFS, are outlined below:
Tuition Euro GBP* USD* CAD*
1 week €550 £480 US$775 CA$825
2 weeks €1000 £870 US$1415 CA$1495
4 weeks €1900 £1655 US$2685 CA$2845
Additional weeks €450 £390 US$635 CA$675
Accommodation costs per week (payable in Euro (€) directly to
Meath Self Catering
.
for further information / bookings)
Accommodation Euro GBP* USD* CAD*
Self catering €150 £130 US$215 CA$225
Full board €300 £260 US$430 CA$450
(* rates as of 25th January 2010; dependant on rate of exchange at time of payment)
In order to book a place on the programme, you must send a deposit of €500 (approx US$725). Your place on the dig cannot be held until this deposit and your application are received by IAFS in Dublin, Ireland. The above costs include insurance and administration costs.
Book by 19th February 2010 to avail of €50 discount.
Costs not included in the fees paid to IAFS:
Transportation costs to and from Ireland - Participants are expected to make and pay for their own travel arrangements.
If travelling from outside Ireland, your passport.
Spending money - for shopping and other things you may want to do while in Ireland.
Financial aid:
You may qualify for financial aid through your home institution or through
The Gilman International Scholarship
(application for 2010 study abroad programs will be available
online
in February of 2010 with a deadline of 6th April, 2010). Participants should also look at other financial aid possibilities on the IAFS
website
.
To Apply:
You can apply by contacting us through The Irish Archaeological Field School website.
The application deadline is Friday 15th May 2010. Book by 19th February to avail of €50 discount.
Students applying to receive academic credit must be in good academic and disciplinary standing with their home institution and have the approval of the program's Faculty Director in order to participate on this program.
Cancellations:
The IAFS will refund the extent of money recoverable for committed expenditures if notice or cancellation and a request for refund are submitted to the company offices (see below) in writing no later than six weeks prior to your booked arrival date.
Responsibility — The Irish Archaeological Field School / CRDS, its employees and agents, act only as agents in operating this programme and are not liable for any loss, delay, injury, or damage to person or property resulting from any cause beyond the control of the operating agents. The operating agents reserve the right to alter this programme at their discretion without prior notice to participants. The programme directors reserve the right to refuse to retain any person as a member of this programme in which case no refund is made. No refunds are possible for service not used by participants after the programme is in operation. Any additional expense resulting from illness, accident, natural disasters, wars, strikes, riots, acts of governments, improper passports, visas or necessary travelling documents, or from any conditions whatsoever beyond the control of the operating company are to be borne by the individual participant. The airlines concerned are not to be held responsible for any act, omission, or event during time passengers are not on board their planes. The passengers' contract in use by the airlines concerned, when issued shall constitute the sole contract in use between the airlines and purchasers and/or passengers. Any IATA carrier may be flown.
Boyne Valley Private Day Tour

Immerse yourself in the rich heritage and culture of the Boyne Valley with our full-day private tours.
Visit Newgrange
World Heritage site, explore the Hill of Slane, where Saint Patrick famously lit the Paschal fire. Discover the Hill of Tara, the ancient seat of power for the High Kings of Ireland.
Book Now