Exhibition at the Solstice Arts Centre, Navan
Lost and Found - Exploring the Megalithic Art of County Meath
Opening Night: Thursday 2nd September Time: 7.30pm

Exhibition continues until Thursday 23rd September

Lost and Found is an exhibition that explores the megalithic art of County Meath by connecting investigative practices of archaeologist and artist.
The Bend of the Boyne, or Brú na Bóinne is internationally renowned for its elaborate Neolithic passage tombs, containing the largest assemblage of megalithic art in Europe.
Professor George Eogan's prolific factual study of Megalithic art of the county interlinks with the diverse work of four contemporary artists. Curated by Brian Fay, Niall de Buitléar, Fiona Hallinan, Anna MacLeod and Sabina Mac Mahon query the modern day relation of iconic Megalithic art and sites in County Meath.
Exhibition continues until Friday 24th September.
Admission Free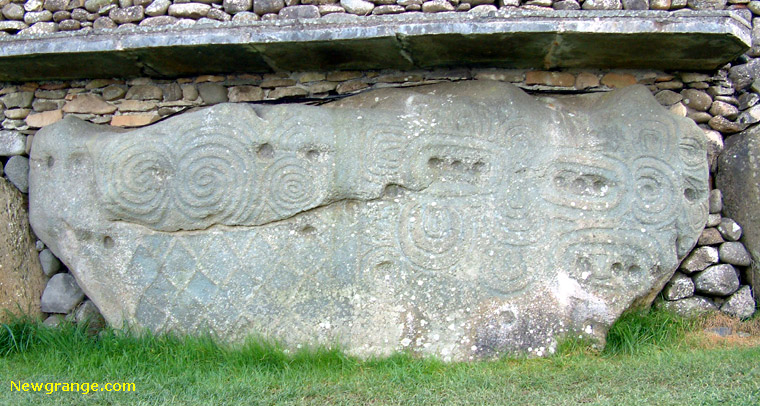 Megalithic Art on Kerbstone 52 at Newgrange

Boyne Valley Private Day Tours

Pick up and return to your accommodation or cruise ship. Suggested day tour: Newgrange World Heritage site, 10th century High Crosses at Monasterboice, Hill of Tara the seat of the High Kings of Ireland and the Hill of Slane where St. Patrick let a Paschal fire in 433 More ...