Newgrange Coin Set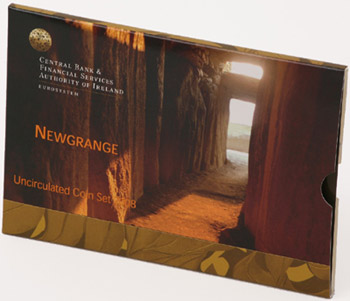 Newgrange was the theme for the 2008 Central Bank of Ireland uncirculated Coin Set, the sixth and final mint set in the
Heritage of Ireland
series.
The set features the ancient passage tomb at Newgrange. Built over 5000 years ago, the burial chamber is entered through a long stone passage with the whole area being covered by a huge mound. The tomb is bordered by 97 kerb stones bearing decorative patterns in the Megalithic art style.
The set was officially launched on 21 December 2007 following the
Winter Solstice
at Newgrange.
The Newgrange Coin Set is available to purchase, for more information email
BoyneValleyTours@gmail.com
or click on the "Make an Inquiry" botton below.
Speaking at the launch Minister Ahern said "I am very pleased to be here today at
Brú na Bóinne
for the launch of the 2008 coin set. The linking of our heritage sites with the coin set is of major benefit to both the OPW and the Central Bank. Indeed it is particularly fitting that we are here this year, the 40th anniversary of the discovery, by Professor
Michael O'Kelly
, of the rays of the rising sun on
Winter solstice
day shining through a special aperture to illuminate the chamber at Newgrange. As you all know this site is one of only two World Heritage sites in the Republic of Ireland and is without doubt a very special and unique place"
The Governor of the Central Bank, John Hurley, said "The Bank is delighted to launch our sixth and final set in the Heritage Series of Annual Mint Sets for 2008 honouring Newgrange. It is fitting that what is possibly our most famous Heritage Site has been kept until last. Our annual mint sets travel far and wide across the globe and I have no doubt that these Newgrange coin set will be recognised and admired around the world "
This is the last in the series of Heritage coin sets produced by the Central Bank in collaboration with the OPW featuring some of Ireland's national monuments, parks, gardens and nature reserves. Previous coin sets in the Heritage series have featured the Casino at Marino in Dublin, Reginald's Tower in Waterford, Heywood Gardens, Co. Laois, Glenveagh National Park & Castle, Co. Donegal and Dún Aonghasa Inis Mór, on the Aran Islands.
The 2008 coin set also features a brief history of the
Newgrange
chamber and passage. In fine weather conditions, Newgrange is illuminated by the
winter solstice
sunrise at dawn from the 19th to the 23rd of December. A shaft of sunlight shines through the roof box over the entrance and penetrates the passage to light up the chamber. The dramatic event lasts for 17 minutes.
Boyne Valley Private Day Tours

Pick up and return to your accommodation or cruise ship. Suggested day tour: Newgrange World Heritage site, 10th century High Crosses at Monasterboice, Hill of Tara the seat of the High Kings of Ireland and the Hill of Slane where St. Patrick let a Paschal fire in 433
More ...