Stonelight Archives
Archive based around the pioneering research of the
Stonelight Team
: Martin Brennan (1942-2023), Toby Hall, Jack Roberts and others interested in the function and purpose of the Irish Megalithic culture.

Cracking the Newgrange Code - 1979
Page 1,
Page 2,
Page 3,
Page 4.
Golden Secrets of our History
Irish Independent - March 1980
Origins of Western Civilisation in Newgrange?
Meath Chronicle - May 1980
American finds world's oldest sundial in Ireland
April 1982
'Dowth Castle' - where East and West meet - April 1978
Ireland was at the centre of Megalithic Civilisation
The man who 'cracked the Newgrange code'
Star gazers surface in megalithic Ireland
The Fabulous Pre-historic lightshow - Sunday Tribune December 1981.
A National Park to hold Ireland's Pyramids
Newgrange - Letters to the Editor
Letters to the Editor Irish Times - March 1984
An Irishman's Diary
1500 BC vessel found on farm - July 1984
Archaeological Park - Letter to The Irish Times - January 1990
Archaeologists from 12 European countries to visit Knowth - April 1984
Newgrange - Letter to The Irish Times - April 1984
Digging into the roots of the rich and varied Boyne Culture - March 1984
The Embassy of the USSR - October 1979
Sheela-na-gigs - Power to Make Irishmen Blush
An Irishman's Diary - Kevin Myres
Rites of Passage Graves - Lorna Siggins, August 24th 1989
Solstice watch in Tomb - December 1982
The winter solstice phenomenon at Newgrange : Accident or Design
Board of Works welcomes decision - The Irish Times - February 1989.
Book throws light on Knowth Excavations - The Irish Times - April 1984
Martin Brennan's research into the Boyne Valley edifices
Knowth, and the passage-tombs of Ireland" By George Eogan
December's sun solves stone mounds mystery
Discovering the Dark Wonders of Knowth
Find may change theory on early man in Ireland
Editor - Passage Graves
Ultrasonic chatter - key to mystery of the stones
Expert warns of threat to ancient monuments
Mace-head found at Knowth is major treasure - September 1982
Knowth Finds put on display
Major Antiquities Find Claimed
In some counties over 60% of Ireland's Ancient Monuments Destroyed
Neolithic Artefact found at Knowth
New discovery made at Newgrange - The Irish Times - April 1982
Newgrange Ancient Observatory
Newgrange Experience
Newgrange oldest Observatory in world
No light at this tunnel's end
Loughcrew Cairn T damaged by vandals - September 1981
Knowth Sundial - The Times - September 1980
Riddles of the Boyne Valley
Secrets of Newgrange left for the future - December 1981
Stone Age find claimed
Stone Mad by By Claire O'Kelly
Megalithomania By John Michell
Stores of the Stars and Stones
Sun Worshippers
Stones not Bones - December 1983
The Boyne Inheritance
Newgrange "A Salt Cellar ­ Not a Tomb"
Circles of Time
Haughey Returns from the tomb - August 1980
Indian Rock 'Calendars' - January 1983
Court orders halt to Sligo Refuse Dump
Carrowmore Judgement - March 1989
Gravel Extraction Threatens Vital Megalithic Tomb at Carrowmore
Council to dump rubbish in the Carrowmore Stone Age cemetery
Solstice Watch in Tomb
Supreme Court Protects Carrowmore Site
The Boyne Valley Calendar
John Boyle O'Reilly - The Gentle Warrior
The Stars and the Stones by Martin Brennan
The Story of the Stones
Gravel extraction threatens vital megalithic tomb
Stone Mad - Sunday Tribune, Jan '84
Tombs of the Gods
U.S. Mounds Called Oldest Celestial Calendar
Wonders of Dowth are uncovered
Wonders of Knowth go on exhibition in Dublin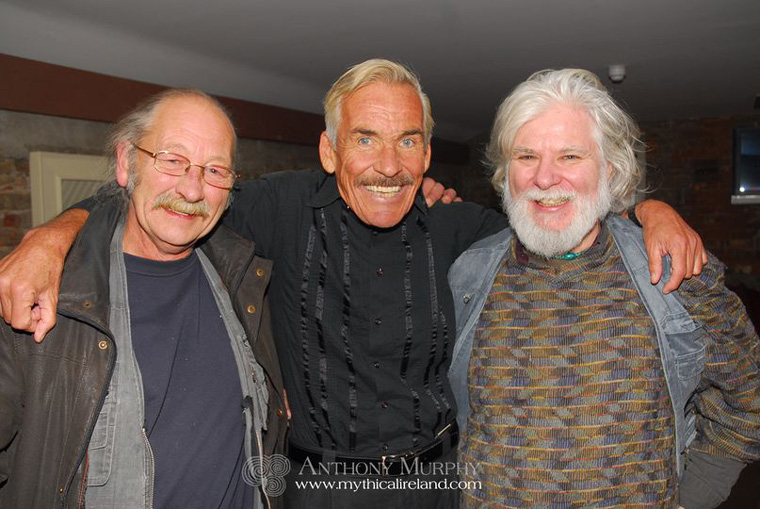 The Stonelight team - Jack Roberts (left), Martin Brennan (centre) and Toby Hall (right). Photo by Anthony Murphy at the 'Boyne Valley Revision' conference at the Newgrange Lodge in December 2009.
Boyne Valley Private Day Tour

Immerse yourself in the rich heritage and culture of the Boyne Valley with our full-day private tours.
Visit Newgrange
World Heritage site, explore the Hill of Slane, where Saint Patrick famously lit the Paschal fire. Discover the Hill of Tara, the ancient seat of power for the High Kings of Ireland.
Book Now